For Sartoria Milano, we created an E-commerce for the sale of their tailoring items and placed it at the top of the results on search engines.
Web Development; Web Marketing; UX Research; Market Analysis
Sartoria Milano, a historic and renowned tailor in Milan, approached us to completely redesign their website in order to cope with the decline in sales caused by the restrictive measures implemented due to the Covid-19 pandemic. The main objective was to increase online visibility and create a modern and captivating digital showcase that reflects the exceptional quality of their artisanal garments. Furthermore, there was a request to include an integrated e-commerce, manageable independently, and to develop the project as quickly as possible.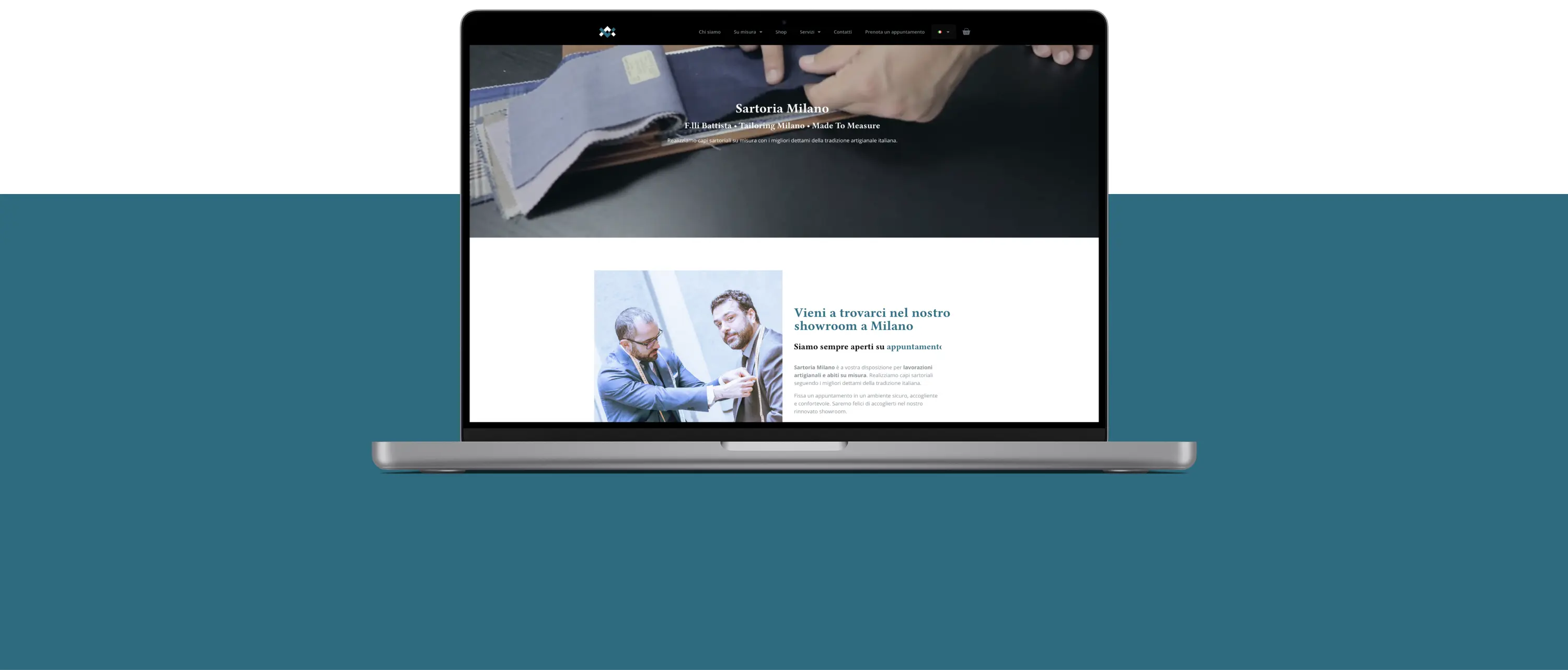 Therefore, it was natural to choose a responsive WordPress solution in order to achieve a high-quality result in a short period of time. The website was developed with a mobile-first strategy, optimizing all pages and interactions for both mobile and desktop devices.
The User Experience (UX) and Interface Design of the website were completely redesigned from scratch to improve the conversion rate and enhance the browsing experience. We have created a dynamic and modern showcase that aligns with the expectations of a company of their caliber.
The implementation of an integrated e-commerce section, easily manageable directly by sales staff, and subsequently creating and linking it to Instagram and Facebook shops, has allowed Sartoria Milano to expand its market to web solutions, enabling them to sell their precious tailored garments and gift cards online.
Search Engine Optimization

An important part of the work was the optimization for SEO. Thanks to our careful SEO copywriting, link building, effective URL generation, optimization of meta tags and code, we were able to make the site accessible and visible, bringing it to the top of search results. By searching for "Sartoria a Milano" on search engines like Google and Bing, the first organic result that will appear will be Sartoria Milano.
The Battista brothers are known for their work backstage at important television shows, where they tailor or make modifications to the precious sartorial garments worn by famous personalities. They often capture these moments with amateur photos and videos. We have done significant work on editing and video editing to give the right emphasis and make these contents "professional" so that they can be shared on their channels.
We have also created promotional videos showcasing their business and company history, which they play during the numerous events they organize in Italy and abroad.
To promote the exclusive golf events organized or sponsored by Sartoria Milano, we have created effective and impactful newsletters.
For these invitations, we create visually appealing graphics and impactful text content to be sent to the mailing list of loyal customers. We also create thank-you newsletters that are sent to those who participate in these events. The newsletters are also created with the purpose of sending discount vouchers and coupons to a select group of loyal customers.
Together with the client, we have come up with services that can be helpful in facilitating purchases during the most restrictive period of the pandemic. We have added Online Consultation to the existing services, allowing customers to replenish their wardrobes without having to visit the atelier in person. Through video calls, the customer is guided and advised on color selection, fabrics, outfit combinations, and other details for the creation of their tailored garments. Additionally, we have added the Travel Tailor service, which allows customers to be visited directly at home, where Sartoria Milano's staff, equipped with a portable body scanner, can take precise measurements without the customers having to visit the atelier.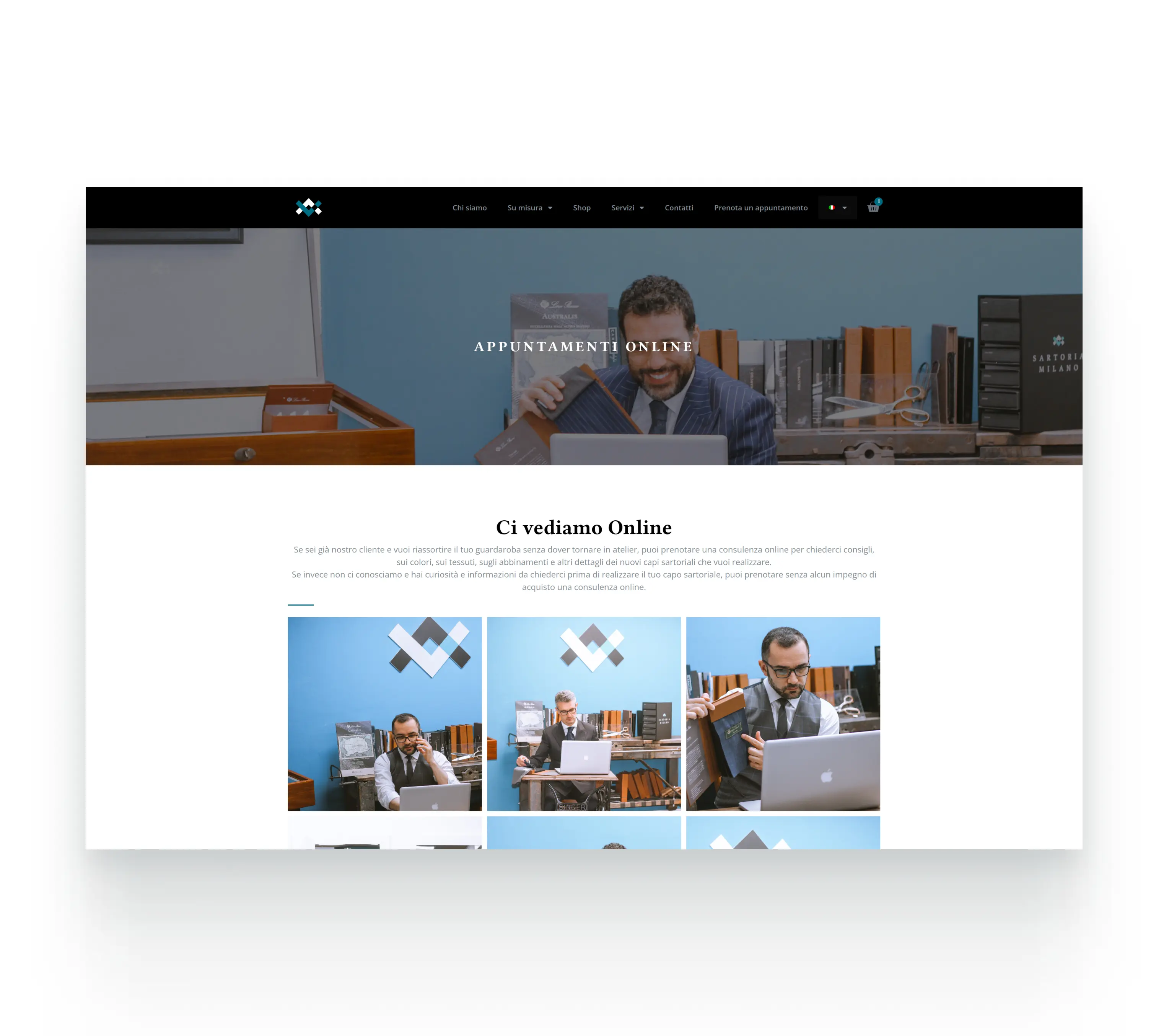 Given the timeframe and objectives, working with WordPress was the most suitable solution for the client's needs. Indeed, it allowed us to create a high-quality digital storefront in a short amount of time, putting a modern and competitive website online that performs well on search engines.
The collaboration did not stop at the mere creation of the website. For over 2 years, we have been working with Sartoria Milano to strengthen and consolidate their brand reputation.