We prepare tailor-made digital marketing strategies for your company and help you understand the best channels to promote them.
Why is it important to have good SEM and SEO strategies?
Do you want to be first in the search results?
PurpleSoft will help you using SEM and SEO techniques, have become fundamental pillars of web marketing in recent years.
what areas of digital marketing do we cover
Search engine marketing consists of paying a search engine to drive traffic to their website. With SEM campaigns it is possible to choose the target audience, using specific keywords, entering a precise geographical location or classic demographic criteria.
This translates into a great advantage, as you have the opportunity to intercept the potential customer with a targeted campaign.
Search engine marketing also allows you to measure a great deal of data: forms filled in by users, website visits or the purchase of products on e-commerce. This allows us to segment our target audience to refine future campaigns.
What are the steps we follow to create successful SEM campaigns?
We do a thorough market analysis to analyse your competitors;
We find your target audience;
We identify the keywords most commonly used by your target audience;
We advise you on the budget to set according to the goals you want to achieve.
We review the results to refine current and future campaigns.
To refine the campaigns we rely on Google Analytics, which allows us to segment the target audience and refine the campaigns.
The term SEO (Search Engine Optimization) refers to all activities aimed at improving the indexing and organic positioning (not paid) of a website on search engines.
SEO therefore offers long-term and more consistent results than SEM campaigns.
Search engines rely on algorithms to identify the most relevant content to the search made by the user, here are the factors they consider:
They give priority to quality (performing) and mobile friendly sites.
They consider the quality and quantity of links back to a site.
They assess the 'freshness' of the content. It is therefore important that the content is updated regularly.
They assess the user's search context, including: geographical location, language, search history, age, etc.
What are the steps we follow at PurpleSoft to improve organic positioning?
We optimise your website code to improve performance;
We optimize meta data (tag title, meta description, header, image description ad more);
We edit your webpage content using the most suitable keywords;
We generate simple and optimised URLs.
The acronym DEM, "Direct Email Marketing", indicates the set of strategies and tactics that, through the distribution of email communications, promote a product, a service or an event. The benefits of a direct mail marketing campaign are related to the high conversion rate as the message is only sent to a specific target group and has lower costs than other forms of promotion.
Furthermore, again thanks to DEM it's possible to implement customer loyalty actions, lead generation and nurturing on users in the database. One of the particularities is that users actively interact with them and there are high conversion rates, with users often completing an action such as buying, downloading or visiting the site.
What are the steps we follow to create effective DEM campaigns?
Let's determine your

goal.
We analyze your customers'

behavior.

We select

the most suitable

target audience.
We create e-mails

with customized and responsive text, images/graphics

.

Through platforms like SendGrid and MailChimp

we proceed with the massive sending

of e-mails.

We analyze the data

to improve your future campaigns.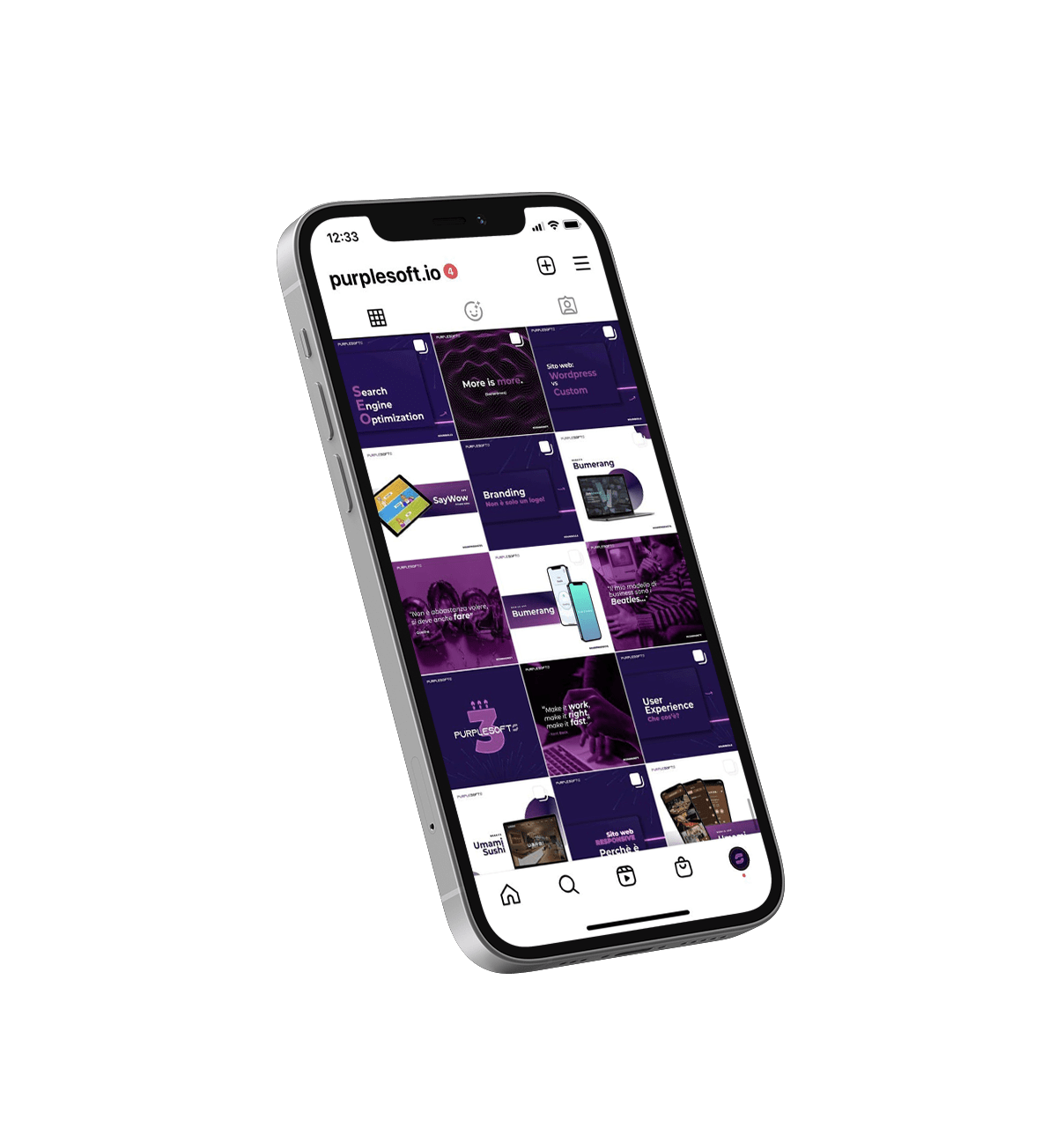 Leveraging the full potential of social media is not as easy as it may seem. It is not enough to create a social profile and update it from time to time to get results. In fact, Social Media Marketing is based on the development of precise strategiesthat take numerous factors into account.
It is essential to define your target audience and the goals to be achieved through the Social Media Marketing strategy, based on these you can develop a targeted strategy to be implemented on the most suitable social channels, which will allow you to get to your goals and achieve the desired results.
What are the steps we follow in building a winning social media marketing strategy?
We define

the goals

to be achieved.

We identify

your target audience.

We analyze

the context

and your competitors.
We create your

personalized communicative style.

We make

your editorial plan.
We curate and monitor

your publications.
In PurpleSoft we also take care of every aspect of social media advertising, such as: Facebook Ads, Linkedin Ads, Twitter Ads
Want to see some of our work?