Law firm management for digital content
and brand restyle
For the law firm Franzosi, Dal Negro, Setti we created a high quality, fully customised management systemand website, available in 5 different languages, as well as a complete restyling of thebrand image.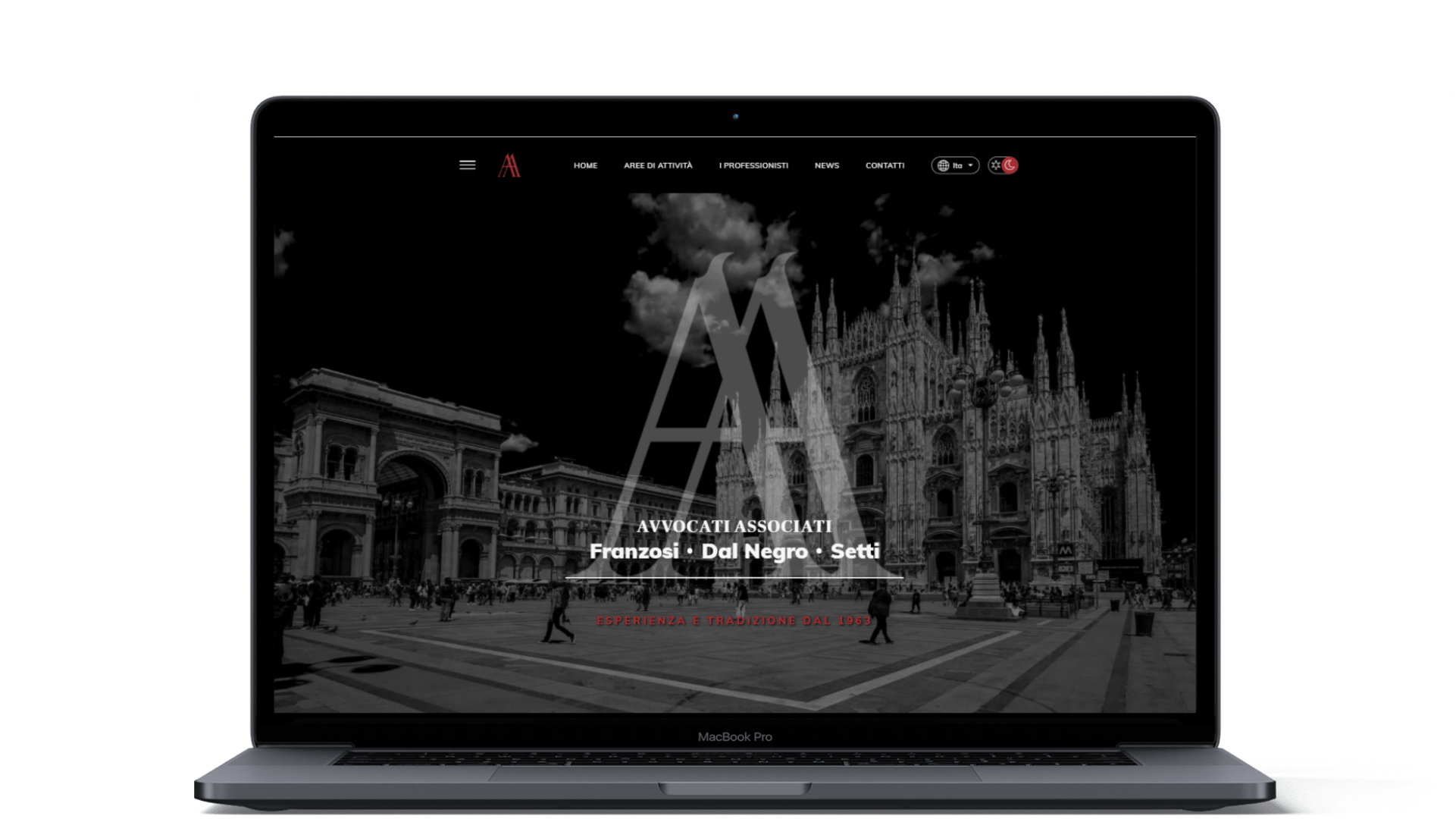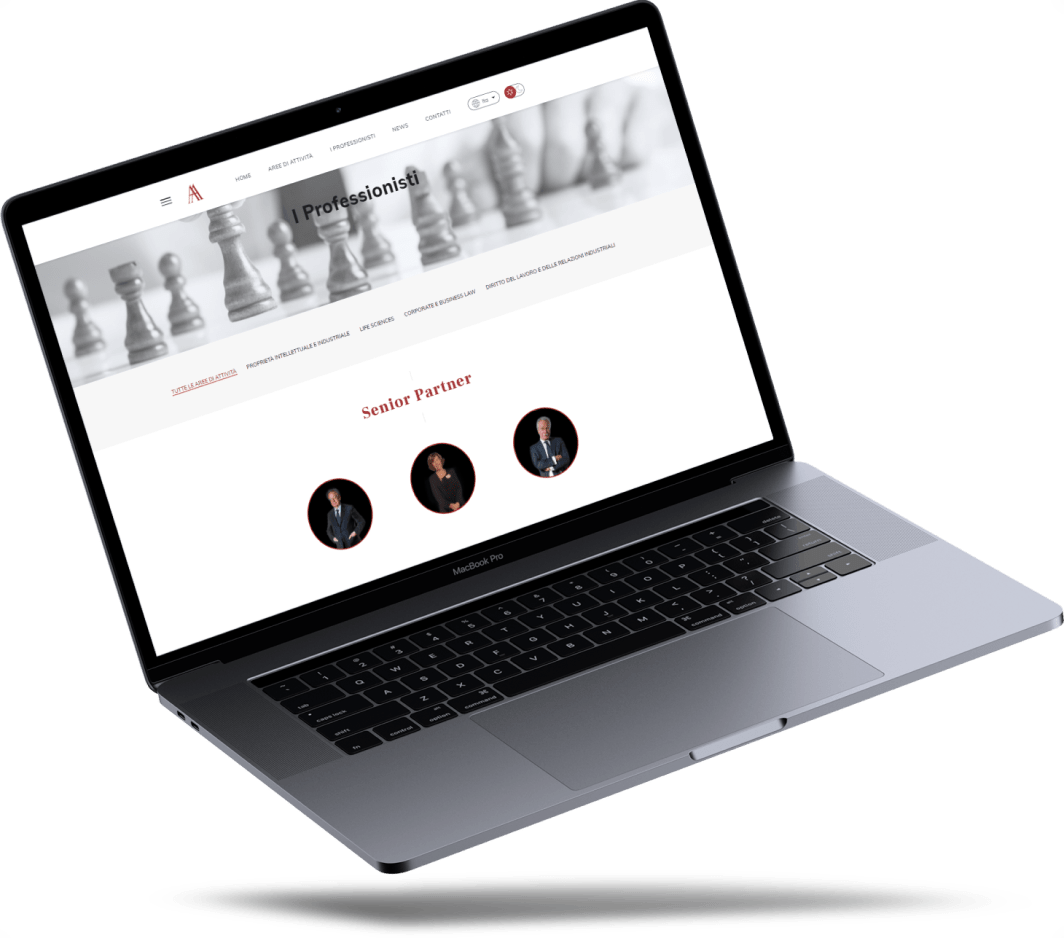 The renowned Milanese law firm Avvocati Associati Franzosi, Dal Negro, Setti asked us to renew their corporate identity and redesign their website.
In the restyling it was essential to balance tradition and modernity, creating an image capable of projecting the historyof the studio into theirfuture vision.
The work on the corporate image began with the restyling of the logo, modernising and redesigning the lines without departing from the historic design.
The second step was to redesign business cards, letterheadsand all the templates for the firm's documentsin a coordinated and harmonious way.
The business cards are made for each professional in 3 different colours (red, white and black) and on the back there is a QR Code that when scanned by a smartphone takes you to their electronic business card.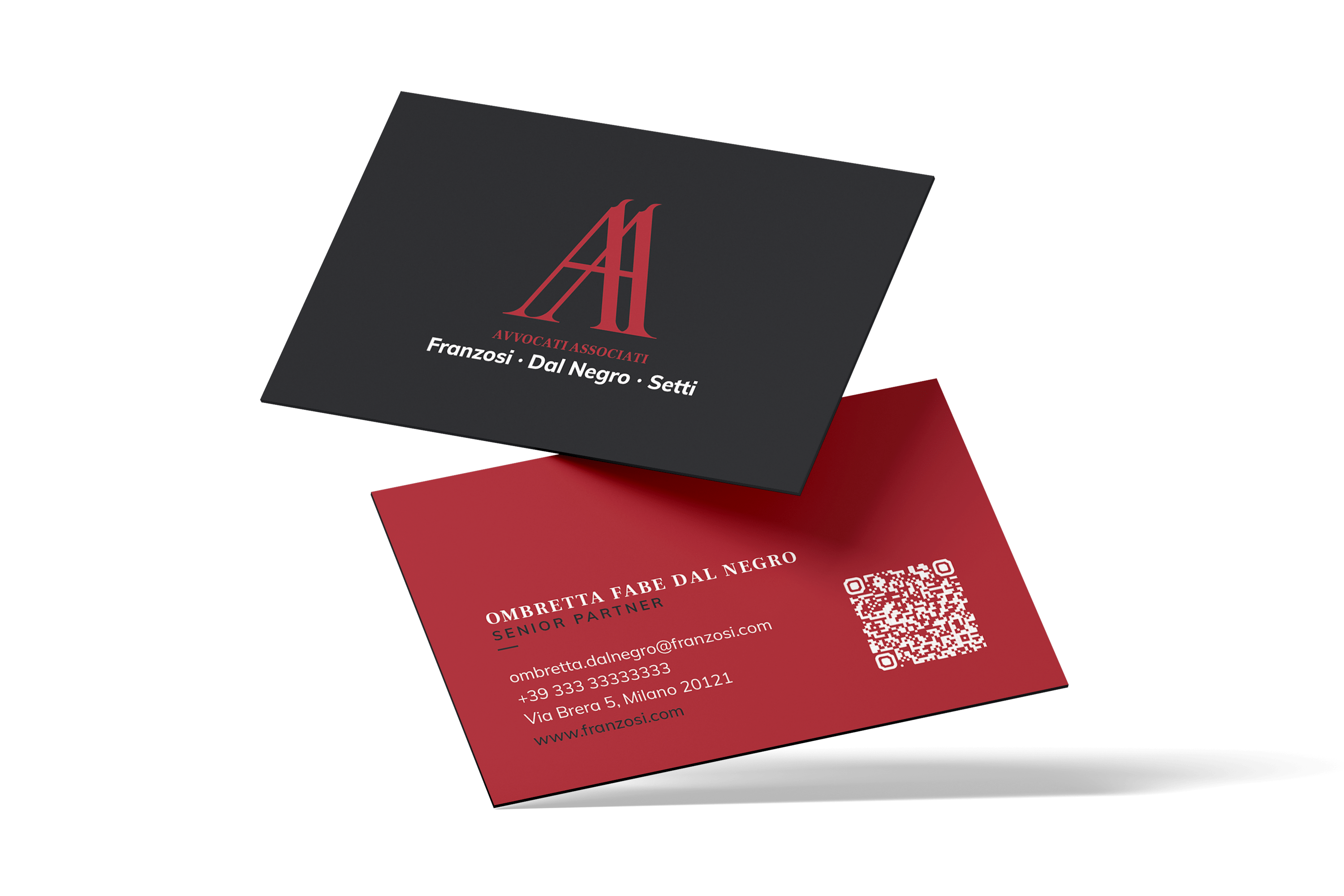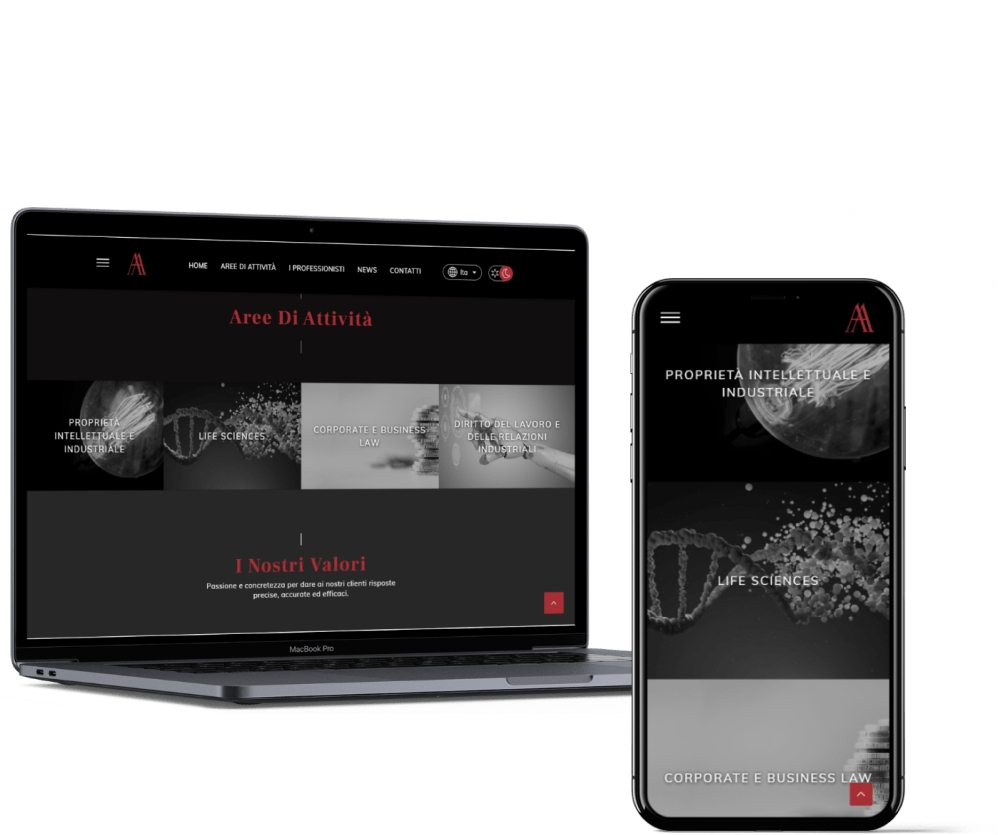 The best part of the job was creating a fully customised responsive website, following the client's ideas and visions step by step, turning them into a modern, high-performance and elegant product.
Prior to the development of the website, a market analysis was carried out and a study of the flows and functionsthat were required, mock-ups in different options and a user test were carried out.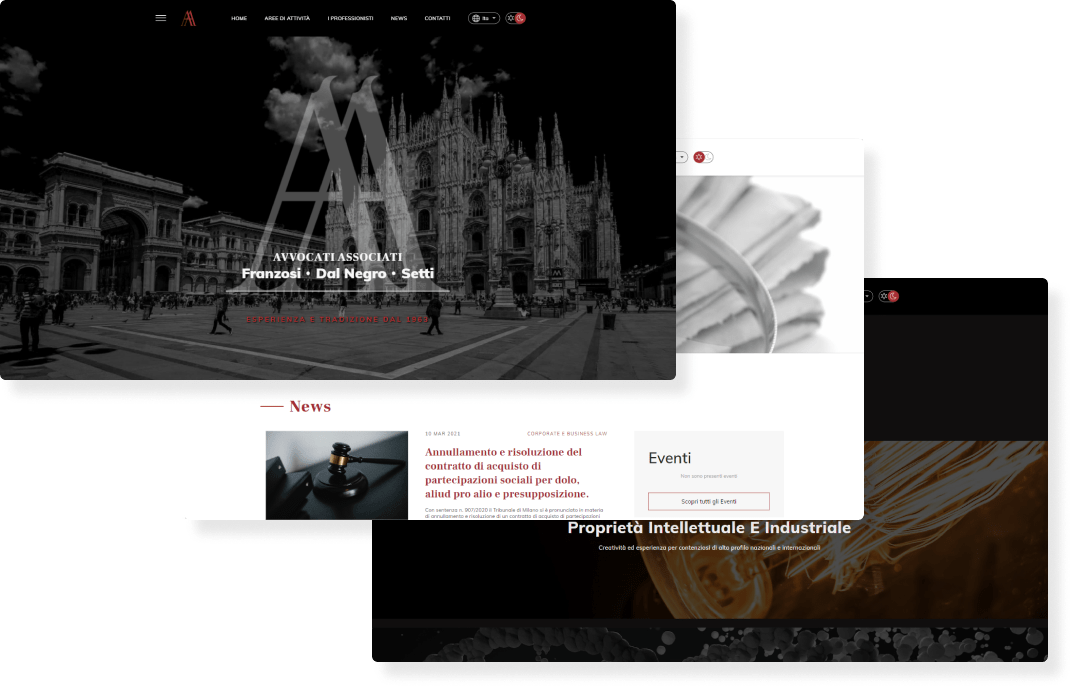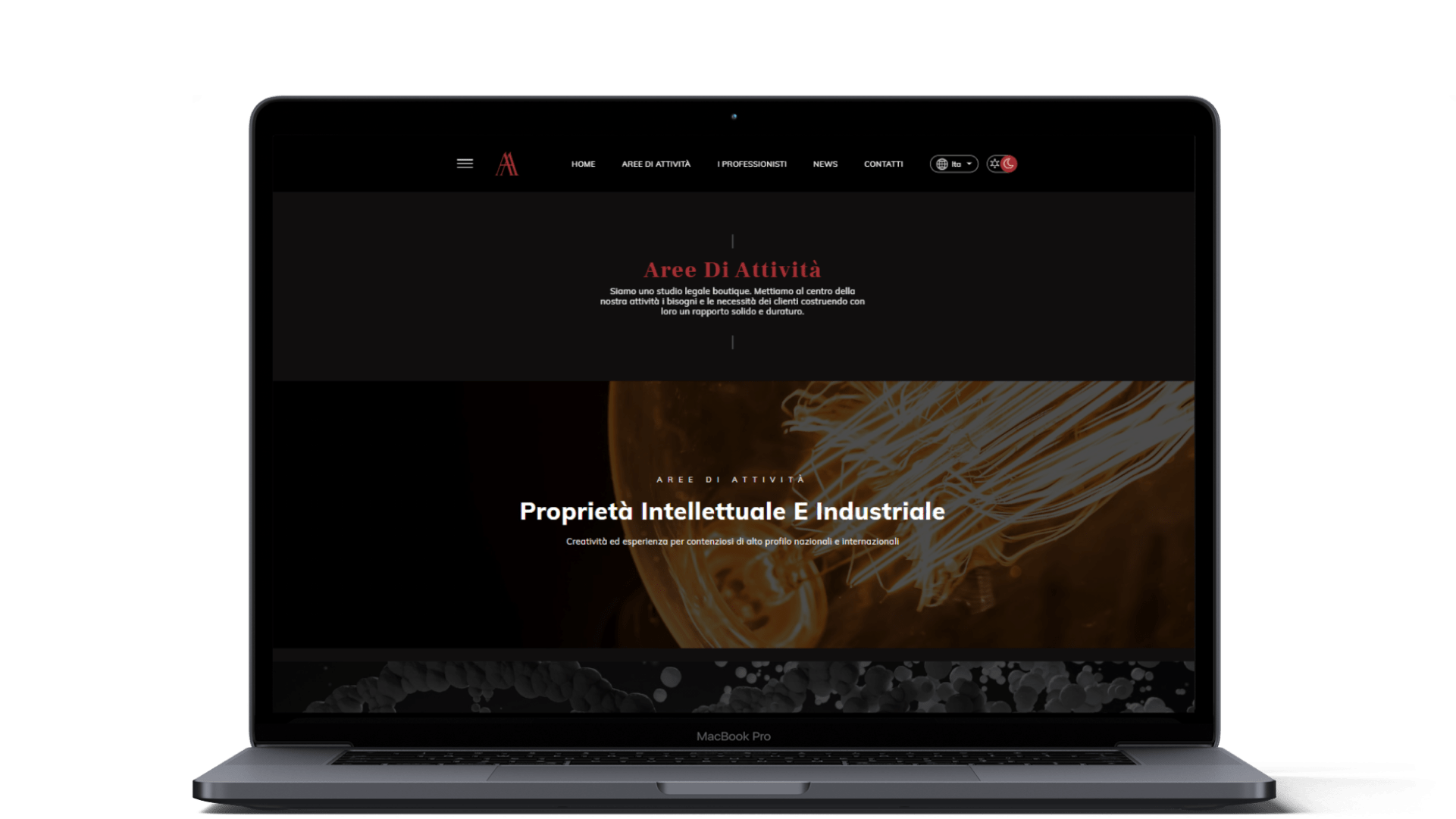 The 100% custom websitewas developed in HTML5, so as to accommodate every detail of the customised and carefully crafted designfor the project.
The site is available in two themes ( light mode & dark mode ), is responsive and includes a backend capable of managing any type of document / article and managing 5 different languages.
The entire solution is based on a database modelled ad-hoc for the law firm which allows the management of the following contents:
national and international locations
areas of activity and sectors
professionals (CV, contacts, publications, articles and Virtual Business Card)
publications/articles
news/events
booking consultations by user/professional
multilingual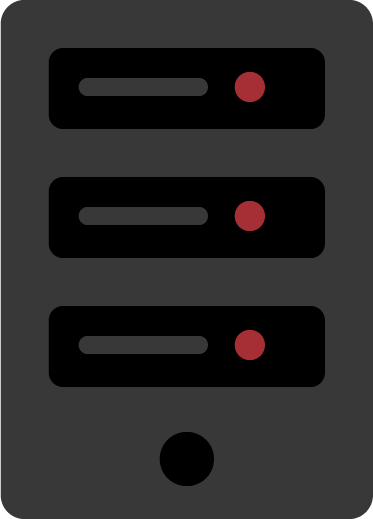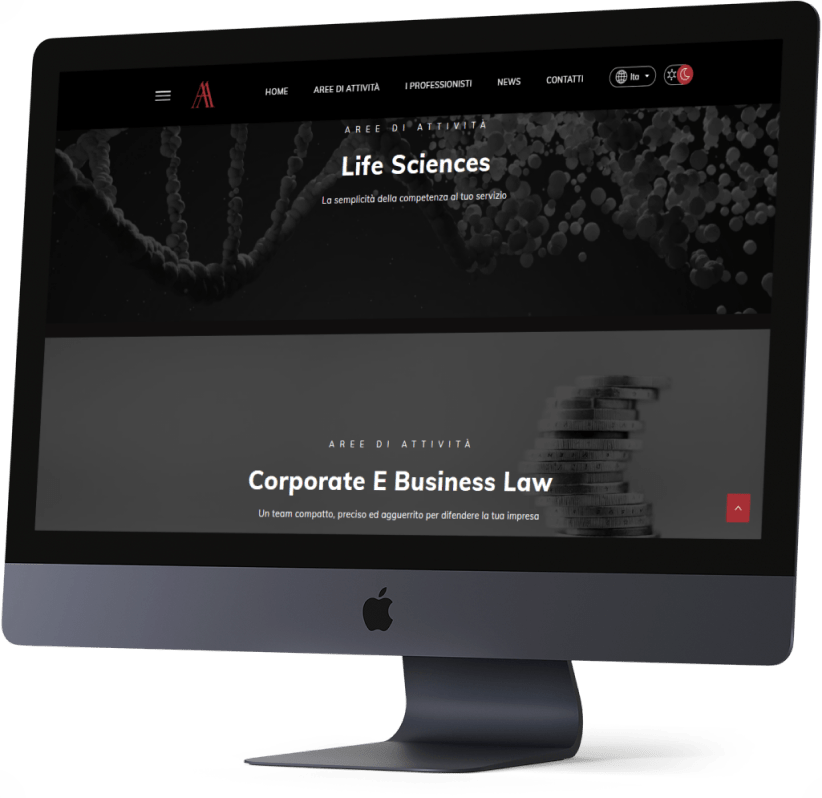 This project gave us the opportunity to measure ourselves against a rich and multifaceted challenge, from the programminga website fully customised and multilingual, capable of performing on all devices, to acorporate image capable of being modern, dynamicand at the same time communicate the values and history of the firm.
We are proud of the work done and the synergywith which all these components interact, creating a whole that is both functional and impressive for our client.